If I were a boy . Beyonсе. Қазақша аудармасы
***
Егер мен жігіт болсам
Тым болмағанда бір күнге
Таңертең төсегімнен тұрып
Қалаған киімімді киіп
Балалармен сыра ішуге
Кетуші едім
Қыздардың артынан жүгіруші едім
Кіммен қыдырғым келсе, сонымен
Қыдырып жүре беруші едім
Және маған ешкім ешнәрсе айтпай
Керісінше қолдаушы еді
Егер мен жігіт болсам
Қызды сүю дегеннің
Не екенін түсінуші едім
Мен ең керемет жігіт болушы едім
Қызымды тыңдаушы едім
Себебі сүйіктіңді жоғалтудың
Не екенін мен жақсы білемін
Ол (жігіт) сені солай қабылдады
Және екеуіңнің араларыңдағы
Барлық затты бұзды
Егер мен жігіт болсам
Телефонымды сөндіріп тастап
Бәріне ол сынып қалды деп айтушы едім
Барлығы мені жалғыз
Ұйқтады деп ойлау үшін
Өзімді бірінші орынға қоюшы едім
Менің ережелеріммен жүргізуші едім
Себебі ол маған адал екенін
Және мені үйге қашан келеді екен деп
Күтіп отыратынан білемін
***
If I were a boy
Even just for a day
I'd roll out of bed in the morning
And throw on what I wanted and go
Drink beer with the guys
And chase after girls
I'd kick it with who I wanted
And I'd never get confronted for it
'Cause they'd stick up for me
If I were a boy
I think I could understand
How it feels to love a girl
I swear I'd be a better man
I'd listen to her
'Cause I know how it hurts
When you lose the one you wanted
'Cause he's taken you for granted
And everything you had got destroyed
If I were a boy
I would turn off my phone
Tell everyone it's broken
So they'd think that I was sleeping alone
I'd put myself first
And make the rules as I go
'Cause I know that she'd be faithful
Waiting for me to come home (to come home)
If I were a boy
I think…
By: BegimK
TRANSLATION TODAY IS THE GOLDEN BRIDGE OF ARTISTIC THOUGHT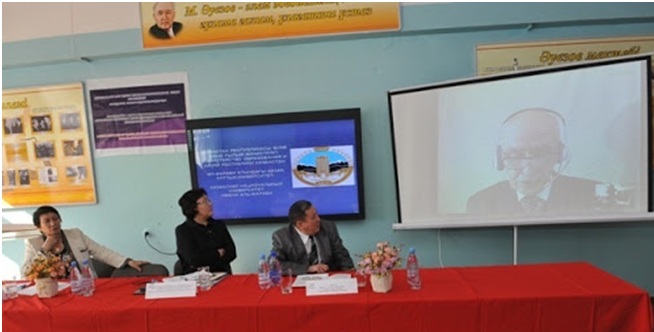 On November 27, 2020, the Department of Foreign Philology and Translation Studies of the Faculty of Philology and World Languages of Al-Farabi Kazakh National University held an international scientific-methodical conference "PHILOLOGY, LINGUVODIDACTICS AND TRANSLATION: CURRENT ISSUES AND DEVELOPMENT TENDENCES".
The conference was attended by qualified and experienced specialists from near and far abroad and from universities of the country.
The conference began with a welcoming speech for the participants by the dean of the Faculty, Professor B.U. Zholdasbekova.
Various scientific articles in the field of translation studies, philology, and linguistics were discussed at the international conference. Scientists tried to identify ways and directions for the development of translation studies, expressed their views. The relevance and importance of each article was determined and a lively discussion took place.
It should be noted that the professors of the Department of Foreign Philology and Translation organized an online seminar on "FEATURES OF ETHNOCULTURAL VARIABILITY IN LANGUAGE, LITERATURE AND TRANSLATION" from 16 to 27 November. Professors E.D. Suleimenova, S.A. Ashimkhanova, Zh.D. Dadebaev, T.O. Esembekov, A.S. Tarak and associate professors M.M. Aimagambetova, S.D. Seidenova, L.Zh. Musaly, G.Sh. Akimbekova, G.K.Kazybek K.K., Kenzhekanova delivered lectures to the audience and shared their experiences.
"A person who is not inspired by translation, who does not enjoy the image, who does not write with the blood of the heart, cannot create a world that will last in his native language for a long time," – said T. Alimkulov. It means that translation is both fascinating and challenging branch of science. Therefore, being a translator is a difficult task which never loses its responsibility and importance, which became a topical issue in the work of this conference, which in turn shows that today the interest in the profession of translator is growing. This is gratifying.
At the end of the conference, a collection of articles and certificates were given to participants. The head of the department, associate professor M.M. Aimagambetova thanked the participants of the traditional annual conference and wished them creative success.
Associate professors of the Department of Foreign Philology and Translation Studies of the Faculty of Philology and World Languages G.K. Kazybek, K.K. Kenzhekanova